CareIQ for Salesforce®️ Health Cloud
Accelerate the Path to Digital Health With Automated, Evidence-Based Solutions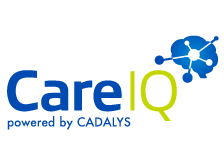 Streamline The Payer-Provider-Patient Journey
CareIQ for Health Cloud provides efficient best-practice workflows that leverage fully integrated evidence-based guidelines, assessments and recommendations that inform critical decision support to ensure compliance and personalized patient care. This is done all while enhancing payer-provider communication and automating previously manual, time-consuming processes. With CareIQ, organizations empower patients to take charge of their health and ensure appropriate care, while managing risk.
Cadalys leverages deep expertise and powerful healthcare research, data and analytics from content and technology partners to deliver a holistic solution to improve patient experience and outcomes across the most mission-critical areas impacting the patient-payer-provider experience. These actionable, data-driven insights and decision-making capabilities extend the power of Salesforce Health Cloud for rapid time-to-value and ROI.
Informed by Industry-Leading Channel Partners



Utilization Management
Through automated support of multiple payer workflows, CareIQ for Health Cloud helps insurers transform the pre-authorization process including speeding staff access to decision support knowledge. MCG benchmarks are presented in an interactive and actionable way for workflow automation and analytics.
Care Management
User-friendly access to MCG Chronic Care Guidelines and Transitions of Care content delivers evidence-based assessment and care plan standard guidance (including behavioral health guidelines) to care managers right when it's needed to provide positive patient experiences and help reduce the length of stay.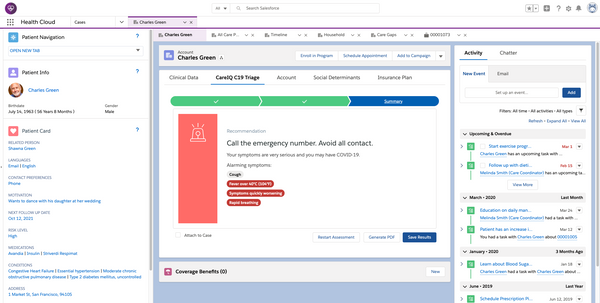 Triage
With automated support of multiple workflows, CareIQ helps payers triage members cases with this guided symptom checker. Ideal for call centers or member portals, CareIQ leverages artificial intelligence (AI) to collect symptoms through guided assessment questions that lead to accurate and actionable triage decision support. Patients can access the consumer version in a portal or mobile device. Clinical and nonclinical can access CareIQ Triage directly within Health Cloud or Service Cloud.
Population Health and SDoH
Care Management and Population Health programs must account for members' social determinants and barriers to care. Automated identification of barriers and evidence-based interventions is critical in understanding a member's needs and creating a compliant personalized care plan. Further, streamlined workflow for referring members to social care providers closes the loop on preventing SDoH from impacting care plan outcomes negatively.
Member/Patient Engagement
CareIQ provides patient/member-facing collaboration tools to ensure communication is open and transparent, keeping members engaged to maximize program efficacy.

"This technology is a massive step forward and feedback from nurses is very positive"
Dr. Victor Fernandez, Medical Senior Manager, Americas IHT-TH&N Medical Director
Check out our Purpose-Built Healthcare solutions today
Connect with our experts today to explore how Cadalys can extend the power and value of Salesforce Health Cloud for your company.