CareIQ For Salesforce®️ Health Cloud
Accelerate the Path to Digital Health With Automated, Evidence-Based Solutions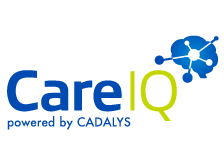 Streamline & Automate Clinical Decision Support
Cadalys' CareIQ solution suite extends the power of Salesforce Health Cloud for payers and providers with a powerful integrated content engine that streamlines and automates mission-critical care management and utilization management processes. Our purpose-built application fully embeds the custom and third party evidence-based guidelines and medical coverage policies you rely on into unified workflows to eliminate the manual, time consuming swivel chair processes that drive up costs and delay getting members and patients access to appropriate, timely care.
This content-agnostic approach supports the unique organizational requirements of both commercial and government-sponsored health plans and their provider networks by consolidating previously siloed content sources into a single pane of glass to ensure medically appropriate, cost-effective care is delivered faster and more efficiently than with siloed, legacy technologies.
Intuitive visualization of CM & UM content within the Health Cloud environment presents policy and guideline data in consumable, logical views to facilitate clarity and quicker analysis by clinical reviewers and more accurate, evidence-based care planning by care managers.
Fully Operationalize Clinical Guidelines & Medical Coverage Policies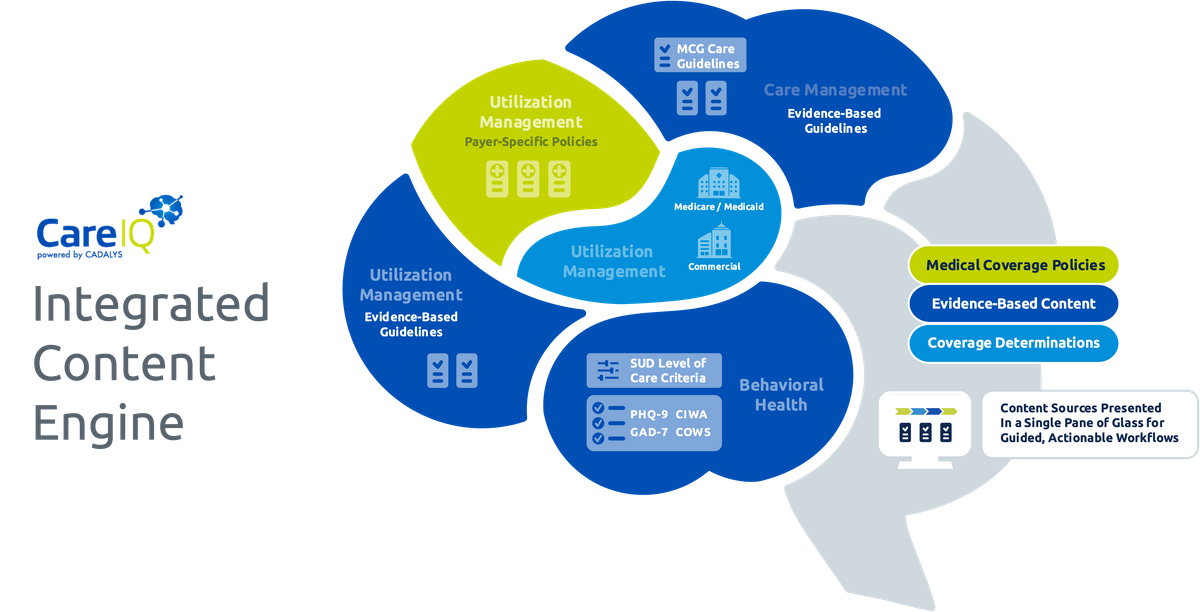 Cadalys CareIQ supports the move toward interoperability for payers and providers by not only standardizing access to multiple content sources, but also making that data actionable in the same system. By empowering healthcare organizations to fully operationalize clinical data in a seamless, intuitive user experience, we deliver a highly efficient approach to leveraging and applying medical policy content and evidence-based guidelines in day-to-day workflows.
Utilization Management
CareIQ Utilization Management fully embeds content from custom medical coverage policies and third party evidence-based guidelines in Salesforce Health Cloud to take the grunt work and guesswork out of evaluating medical necessity.
Our purpose-built solution presents clinical review data in a logical and consumable experience that speeds up interpretation and application of utilization management criteria so clinicians can focus their attention on serving members and patients.
Eliminate swivel chair processes by consolidating clinical review content in a single pane of glass
Enhance payer-provider collaboration to ensure appropriate, timely care and reduce denials
Reduce cost per transaction and improve turnaround times
See how clinicians and staff are intuitively guided through the steps in the utilization review process with fully integrated evidence-based criteria from MCG shown in this quick demo.
Care Management
CareIQ Care Management seamlessly integrates evidence-based guidelines within Salesforce Health Cloud to deliver streamlined, automated assessment and care plan workflows in a highly intuitive experience to inform clinical decision support.
Custom curation of assessments and evidence-based guidelines delivers flexible, scalable support of multiple content sources for Commercial, Medicare and Medicaid payers to drive consistent, compliant care planning processes
Delivers a seamless, highly efficient, and personalized care management process by removing the manual, burdensome steps traditionally required to build and tailor care plans
Embedded support of NCQA, URAQ, CMS, and HEDIS standards in actionable, intuitive views to speed up complex case management and simplify the process of ensuring regulatory compliance from multiple data and content sources
See how CareIQ empowers care managers with fast access to evidence-based guidelines, guided assessments and care plan templates in this quick demo illustrating how MCG care guidelines are surfaced in a workflow.
Behavioral Health
CareIQ unifies care management and utilization management workflows on Salesforce Health Cloud to transform the way clinical and administrative information is exchanged between payers and providers, facilitating a whole-person approach for more efficient care coordination and faster approval cycles for behavioral health services. By fully embedding evidence-based guidelines (such as SUD level of care criteria) and mental health assessments (such as PHQ9, GAD7, CIWA and COWS) with a 360-degree view of the patient, CareIQ surfaces co-occurring complex health conditions impacting both physical and behavioral health factors to enable personalized care.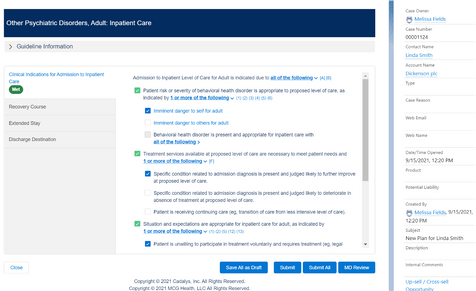 Evidence-based, assessment driven care planning to address medical and mental health comprehensively​

Support pre-authorization, concurrent review and appeals in cases such as inpatient admission, outpatient rehab and substance use disorders

Tighter and more efficient collaboration between payers and providers for seamless decision support and patient handoff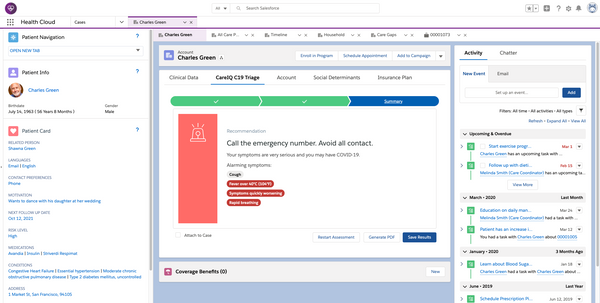 Triage
With automated support of multiple workflows, CareIQ helps payers triage members cases with this guided symptom checker. Ideal for call centers or member portals, CareIQ leverages artificial intelligence (AI) to collect symptoms through guided assessment questions that lead to accurate and actionable triage decision support. Patients can access the consumer version in a portal or mobile device. Clinical and nonclinical users can access CareIQ Triage directly within Salesforce Health Cloud or Salesforce Service Cloud.
Population Health and SDoH
Care Management and Population Health programs must account for members' social determinants and barriers to care. Automated identification of barriers and evidence-based interventions is critical in understanding a member's needs and creating a compliant personalized care plan. Further, streamlined workflow for referring members to social care providers closes the loop on preventing SDoH from impacting care plan outcomes negatively.
Member/Patient Engagement
CareIQ provides patient/member-facing collaboration tools to ensure communication is open and transparent, keeping members engaged to maximize program efficacy.

"This technology is a massive step forward and feedback from nurses is very positive"
Dr. Victor Fernandez, Medical Senior Manager, Americas IHT-TH&N Medical Director
Check out our Purpose-Built Healthcare solutions today
Connect with our experts today to explore how Cadalys can extend the power and value of Salesforce Health Cloud for your company.