Concierge Help Desk For Salesforce®️
Amplify Knowledge & Support With Personalized Search & Intelligent Content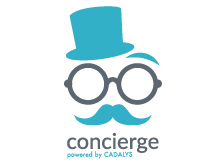 Cadalys Concierge™ is a powerful and elegant next-generation Help Center that integrates seamlessly with Salesforce to provide superior automation for self help, ticketing and knowledge management.
Concierge combines a personalized, predictive search experience with help desk functionality to get employees, customers and partners what they need, when they need it.
Powerful Search
Machine Learning/AI search provides faster access to better information by learning each customer's best results for each search term.Powerful search capabilities consider Knowledge Article views, likes and last published date when presenting results.
Fresh Content
Content is personalized and tailored for each user. Feedback on articles is managed within an SLA to ensure timely updates. Concierge manages article review cycles and automatically flags content in need of review.
Call to Action
Suggested actions provide fast resolution, and can be defined based on article type or category, or for a specific article. Actions can include logging a Case, making a phone call, visiting a web page, launching an app or chatting live with an agent.
Ease of Use
One-stop shop for all shared services ticketing (e.g. IT, HR, Facilities, T&E, etc…). Intuitive forms offer a frustration-free experience. Integrated Chatter® feed enables quick and easy collaboration between users and ticket owners
Concierge Customers Share Their Success
Check Out Our Purpose-Built Employee Engagement Solutions Today