Cadalys All Aboard
Build a culture of trust & collaboration with anytime, anywhere employee onboarding, reboarding and transfer capabilities.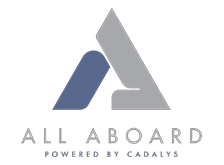 Today's New Normal Demands Trust From Employees and Customers
Employees need fast access to the right information in order to be successful at their jobs. As with much of Employee Engagement, bi-directional communication creates an emotional connection by letting employees know they are valued. It also establishes trust among peers and between managers and their directs.
Work.com Employee Command Center
Cadalys All Aboard is one of an exclusive group of solutions designed to extend the power of the Work.com platform to help companies get back to growth and thrive in the new normal where remote work has become the norm.
All Aboard delivers unified onboarding, reboarding, transfer and offboarding capabilities to drive a culture of trust, collaboration and growth for the workplace of today and tomorrow.
Salesforce's AppExchange Demo Jam
As part of the Accelerate Work.com Cohort, Cadalys is one of just nine inspiring companies in a group handpicked by Salesforce to build purpose-built apps that solve the most pressing challenges faced by companies as they adapt to the modern global landscape. Check out a 3-minute demo of All Aboard presented during Salesforce's AppExchange Demo Jam.
For companies using Work.com, All Aboard works seamlessly with the Employee functionality and the Command Center to provide real-time status on re-opening and re-boarding.
Tailored Onboarding
All Aboard enables you to define tailored sets of onboarding, re-boarding, transfer and offboarding procedures based on location, role, and/or profile. Ensure compliance with local laws, provide white-glove onboarding for key personnel, and successfully engage remote teams and team members.
My Trailhead
For companies using My Trailhead, All Aboard will direct people to the modules curated specifically for their needs.
Teams
Onboarding, re-boarding, transfers and offboarding aren't just about the employee. Engage team members from HR, IT Hardware, IT Software, Facilities and other teams to coordinate all onboarding activities.
Insight Engine
The Insight Engine uses Salesforce's powerful reporting and dashboard capabilities to enable companies to Identify bottlenecks, ensure compliance, improve efficiency and increase productivity.
Improve productivity, mitigate risks of non-compliance, increase retention and create modern experiences for employees, customers and partners to meet and adapt to new expectations.
Check Out Our Purpose-Built Engagement Solutions Today